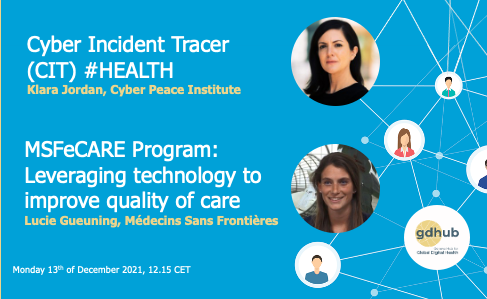 Join us for the GDHUB Talks (03) on Monday 13th of December at 12.15 noon.
During the first part of the session, Klara Tothova Jordan, Chief Public Policy Officer at the CyberPeace Institute will present the Cyber Incident Tracer (CIT) # HEALTH and discuss how this platform can be a powerful tool for accountability for cyberattacks and protection of the healthcare sector.
 
During the second part of the session, Lucie Gueuning, Program Manager at Medecin sans Frontiers (MSF) will share their experience on designing and implementing the MSF eCare Program and how this technology can contribute to improving quality of care.
If you are interested to attend, please register here: https://unige.zoom.us/meeting/register/u5MrdOCgrjwvHd01f7Xl7fqRGa-IrzYfzzCy